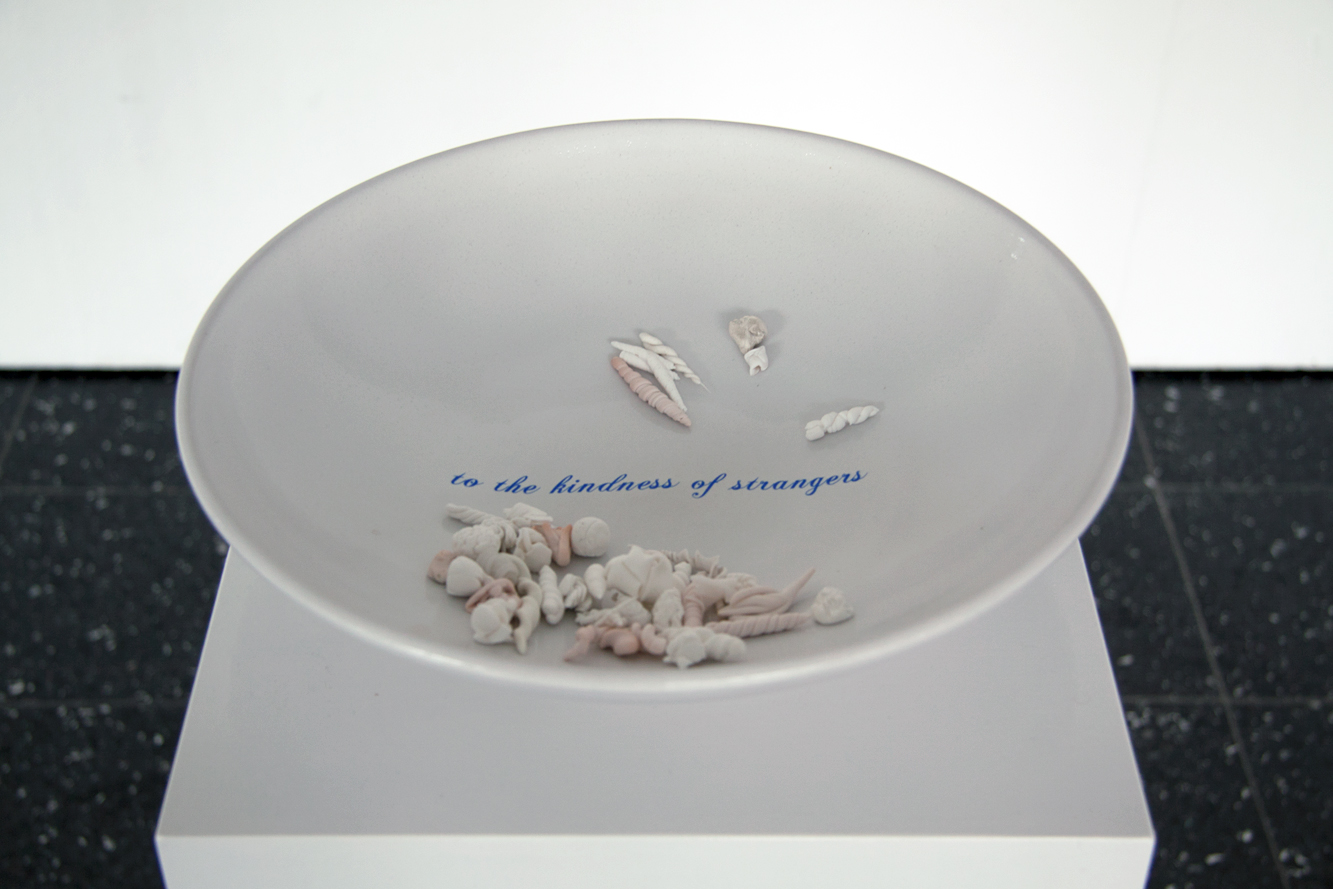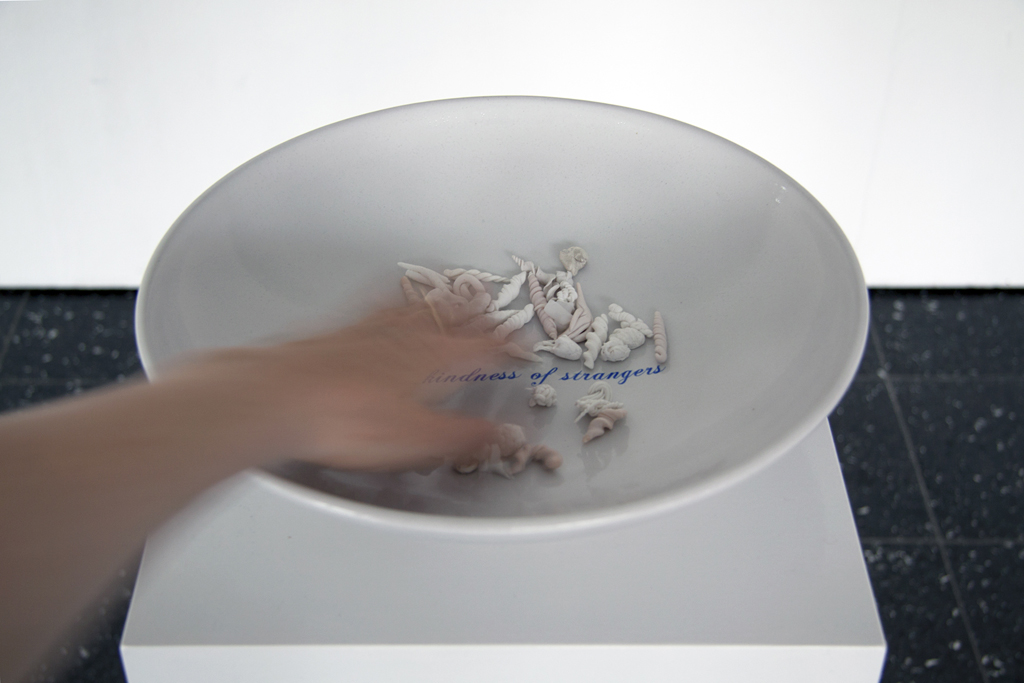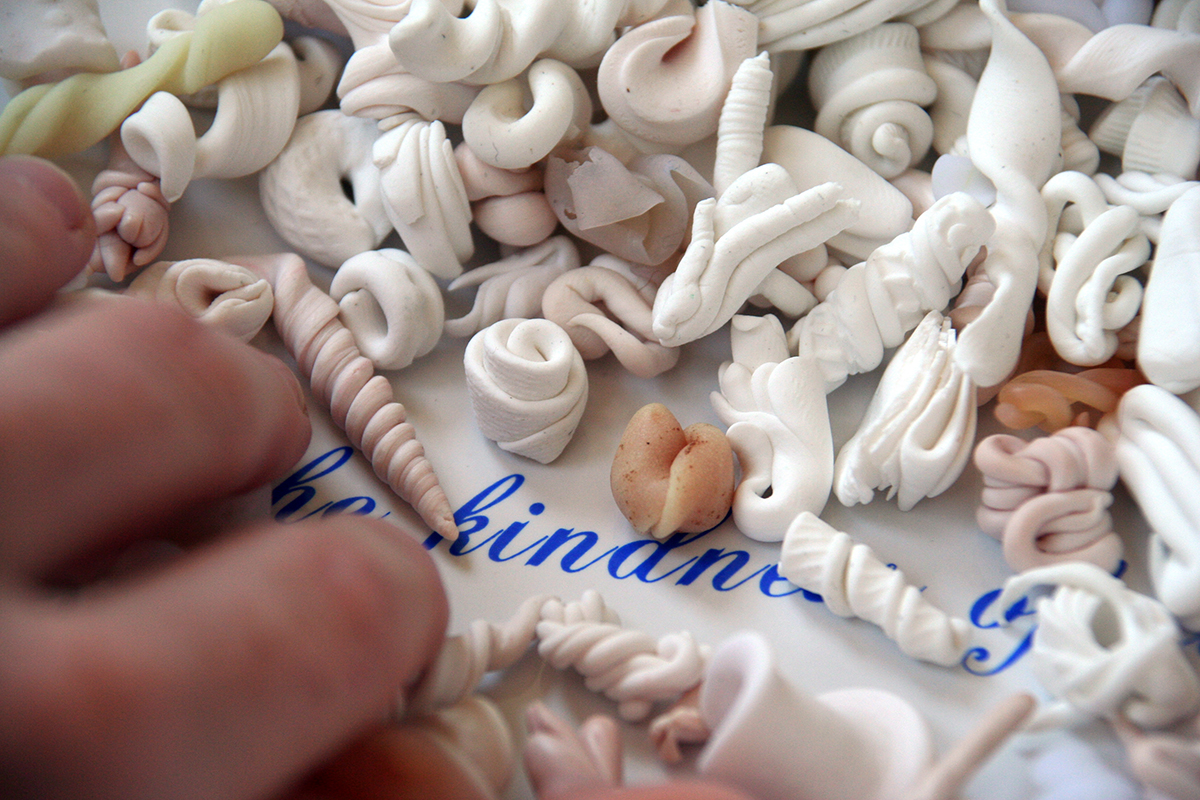 "the kindness of strangers"
Keramikschale, diverse Objekte aus Kunststoff
ceramic bowl, varying plastic objects
2012
Wie gehe ich auf ein Kunstwerk zu? Welche Einstellugen bringe ich mit? Welche Haltung nehme ich ein? Vielleicht mochte ich Malerei noch nie. Oder Performance. Weiß ich schon im Vorhein, was mich erwartet? Bin ich geduldig? Genervt vom Regenwetter? Durstig? Neugierig? Gütig?
Die Schale ist mit kleinen Plastiken gefüllt. Greifst du da herein?
How do I approach a work of art? Which attitudes do I bring with me? What is my posture? Maybe I've never liked painting. Or performance. Do I already know what to expect? Am i patient? Annoyed by the rainy weather? Thirsty? Curious? Kind?
The bowl is filled with small sculptures. Are you going to reach in there?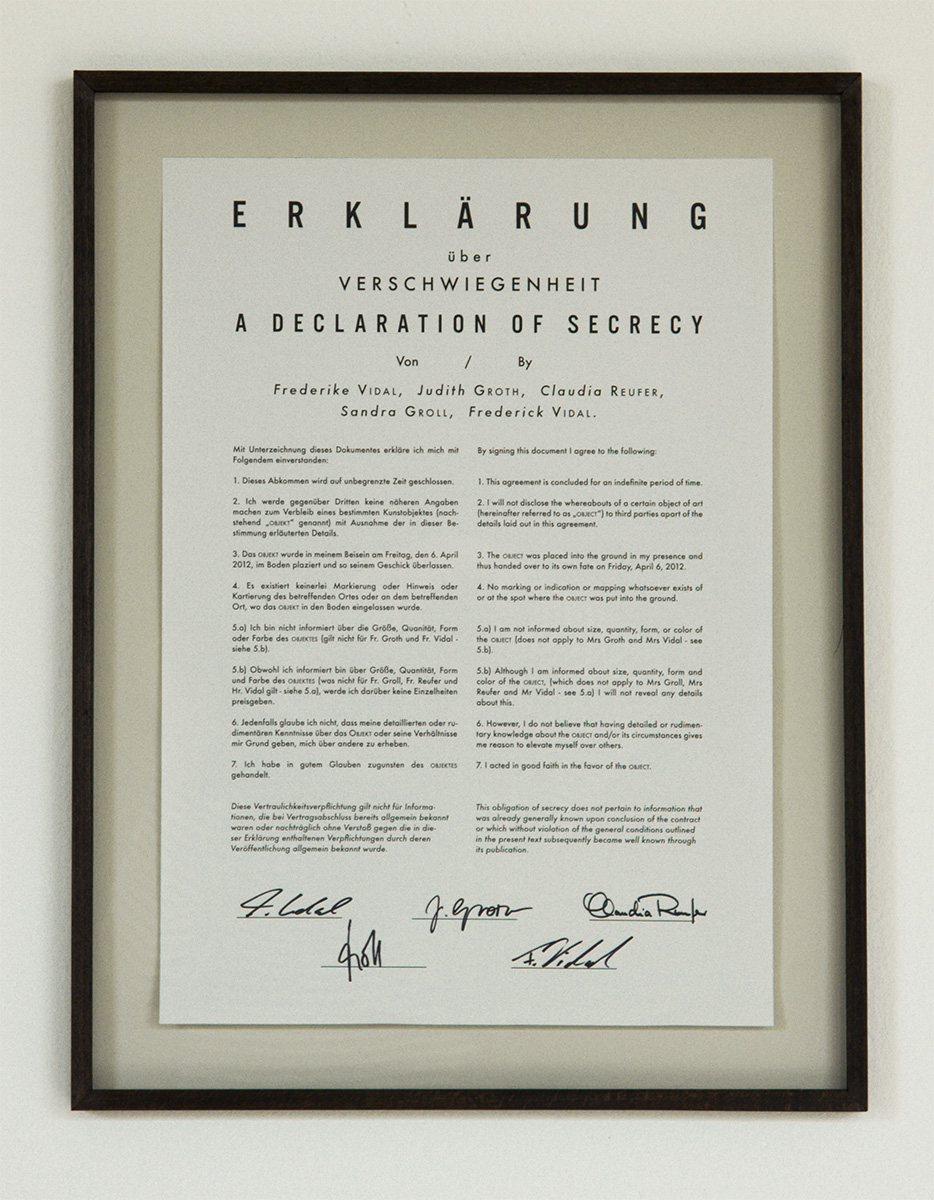 "Verschwiegenheitserklärung (declaration of secrecy)" ,
30 x 40 cm, 2012

Ganz im Sinne der "kindness of strangers" haben wir ein Kunstwerk gemacht und es anschließend vergraben, es ausgesetzt, und es einer späteren Gnade (für den Fall, dass es gefunden wird) bzw. dem Verschwinden überlassen.
Die "Verschwiegenheitserklärung" erläutert die Aktion und wir versprechen darin, nichts Genaueres über den Vorgang oder das Objekt, das wir vergraben haben, zu erläutern.

Subsequently to our work "the kindness of strangers" we made an artwork and buried it, abandoned it and left it to the kindness of strangers (in the event that it is found) or to disappear. In the "declaration of secrecy" we describe the event and promise not to talk about it or the object we buried.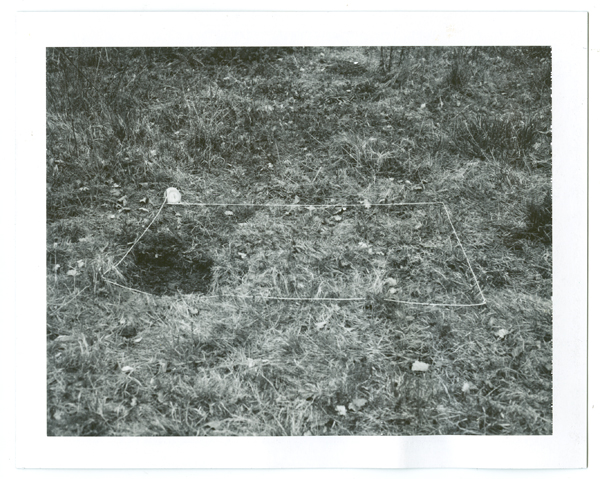 "Umriss",
Polaroid 2012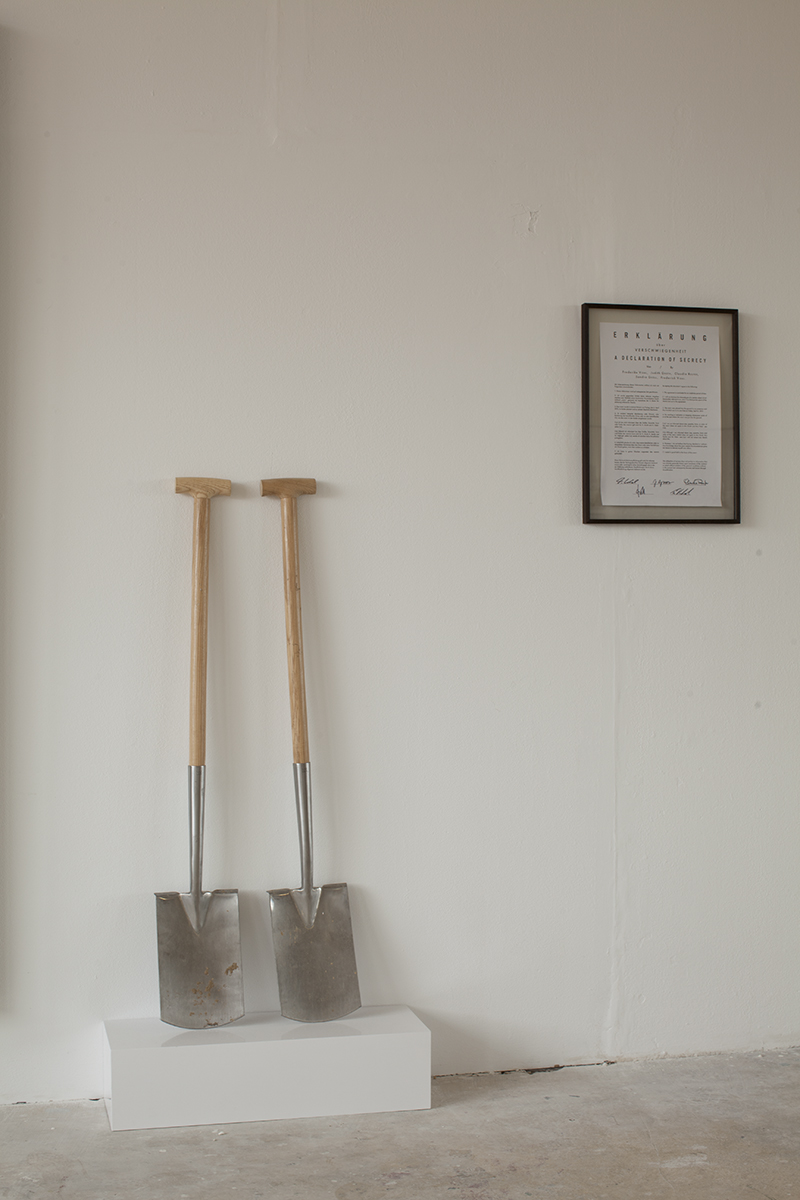 "Spaten (spades)",
Atelieransicht, Kunstfabrik am Flutgraben 2015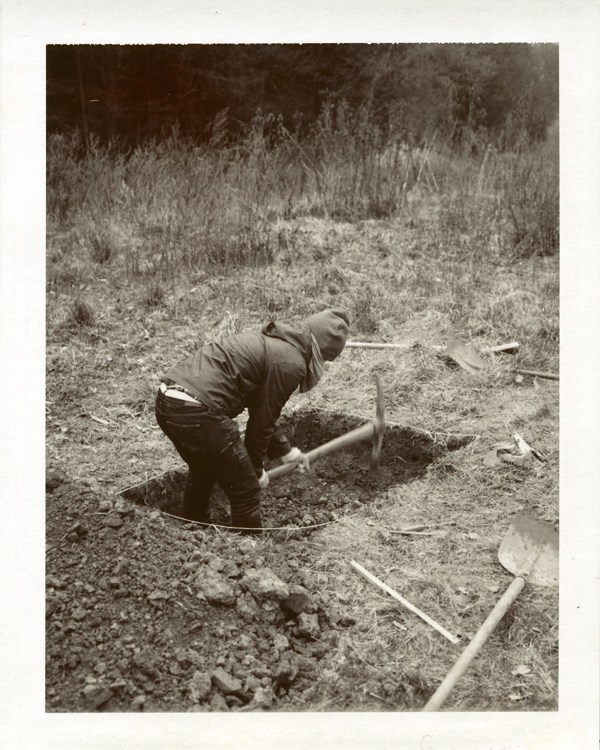 "Eingrabung",
Polaroid, 2012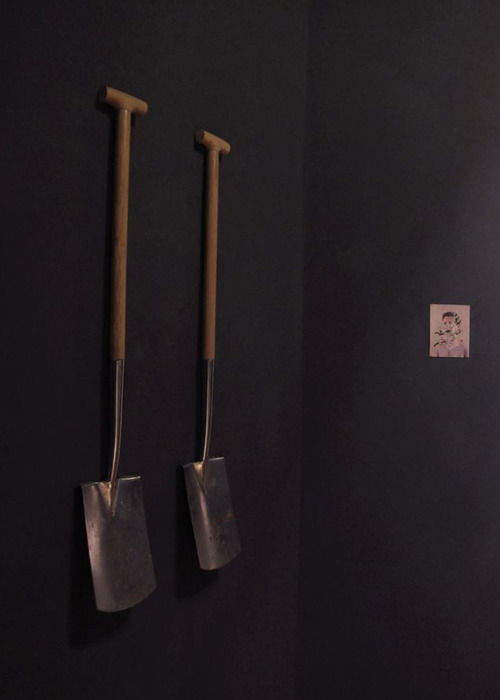 "left unsaid",
Kreuzberg Pavillon 2014
Gruppenausstellung group show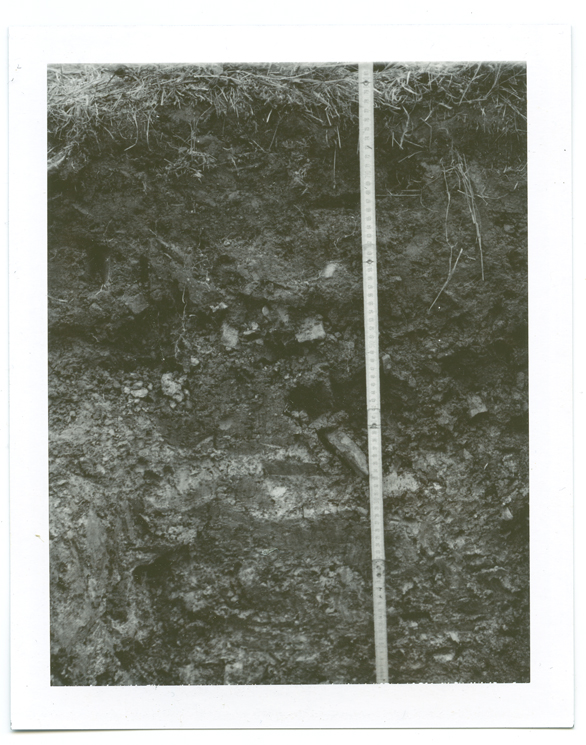 "Tiefenmessung",
Polaroid, 2012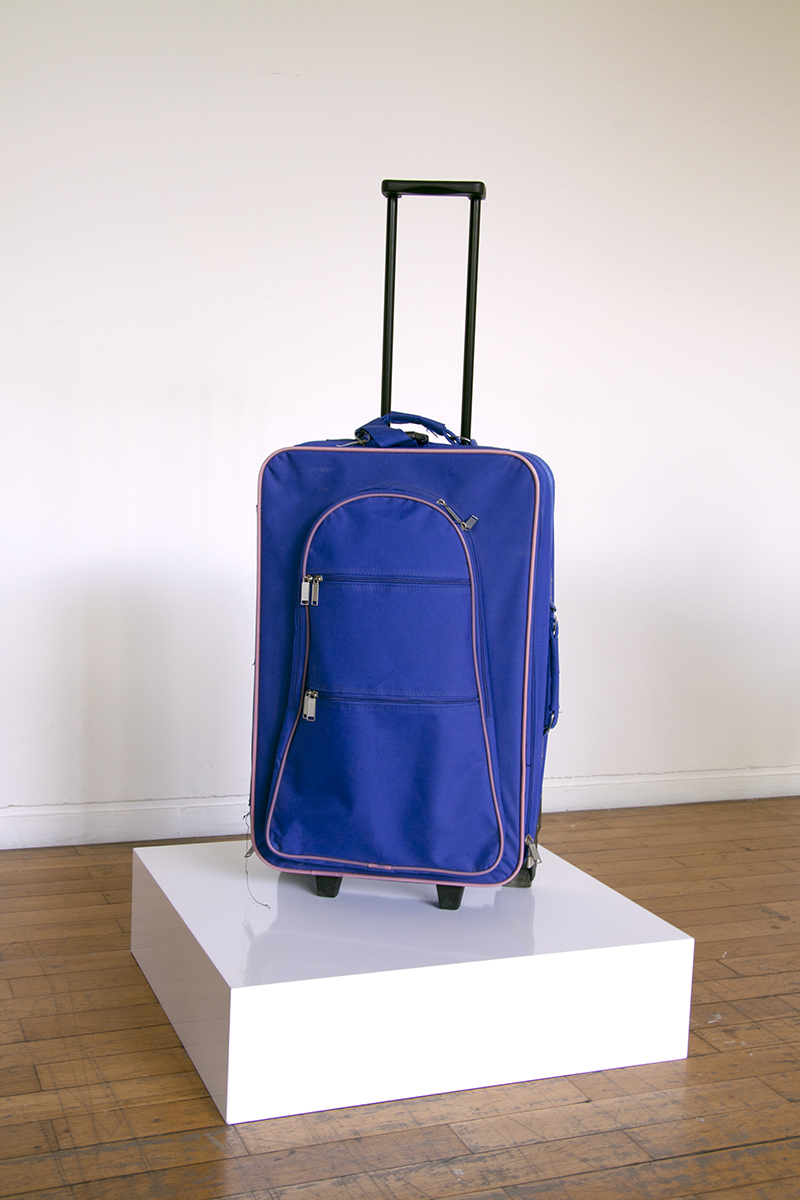 "means of transport",
Transportmittel
trolley, 2012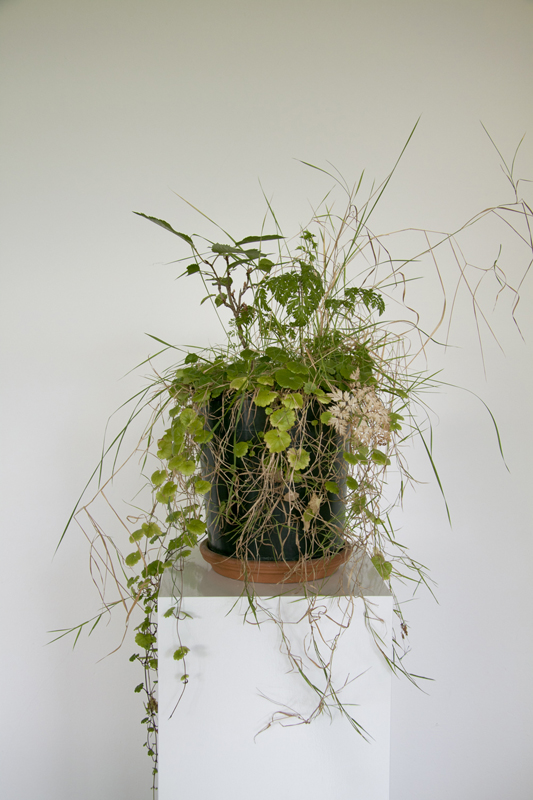 "Teil des Erdbodens",
Erdboden vom Ort der Eingrabung
part of the soil from the burial site , 2012